Embark, L.L.C.
"A small business adventure owned by
Thomas and Doris Wilson"
Marion, Perry County, Alabama
Exploration and Production of Natural Gas in Arkansas

Sport Fishing Lakes: Design, construction, management, guiding, and sales
Project:
Conversion of the Essex catfish lake to a dynamic bass fishing environment (Sept. 2007).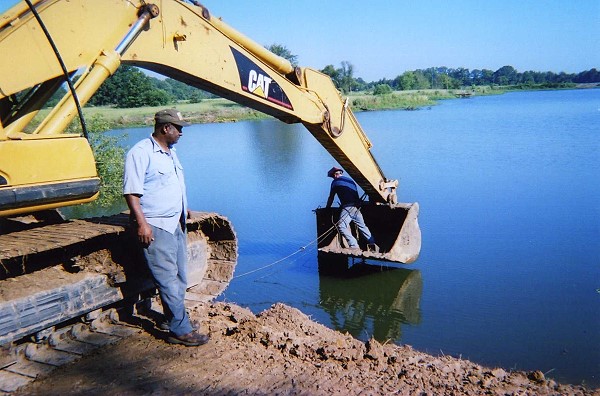 James Essex engaged Embark,LLC to convert his lake in Perry County, Alabama, into a dynamic bass fishing environment. James is watching the worker add a 20 inch extension to his drain pipe which will raise the lake level when the winter rains arrive.
.

Kevin Averrette's dirt moving crew used trackhoes and bulldoziers to turn the shallow, flat lakeside into a system of creek channels, islands, berms, and potholes. Winter rain will flood this shallow area of the lake and will turn this old catfish pond into an exciting topwater bass fishing paradise.
The Essex lake is one of the original Lakeland Farms lakes and it was built in about 1950. This lake has big bass, catfish, and bream along with Golden Shiners for forage. Water will eventually cover these creek channels and topwater bass fishing will explode.
For more information, contact:
Dr. Thomas Wilson
1714 Prier Dr.
Marion, AL 36756
334-683-6389
Waypoint: N 32-36.664 W 087-20.056
email: wils5789@bellsouth.net