Photos by Melissa Reh,
Judson College Webmaster




Judson College

BIO 204
Biochemical Nutrition Class

enjoyed a dinner in Meade Hall on June 17, 2004, which featured delicious, nutritious food.
The students participated through an online discussion board in the course running in Ucompass Educator, our Judson CMS, to coordinate selecting recipes, shopping, and preparing and serving the items at the dinner. Caroline Rankin served as chairman, responsible for the overall planning, and assisted the other students in selecting nutritious, low-fat, low-calorie recipes. She was also responsible for preparing for and hosting the event .
Thanks to all of our guests who attended the dinner and served as our "laboratory test subjects" for this course!
Recipes and Nutrition Information
Chicken and Dumplings - Tiffany Little and Leslie Miller
1 pound boneless skinless chicken breasts, cut into 1-.5 inch cubes
3 cans (14.5 oz. each) reduced sodium chicken broth
3 cups of water
4 medium carrots, chopped
1 medium onion, chopped
1 celery rib, chopped
1 tsp. minced fresh parsley
1/2 tsp. salt 1/4 tsp. garlic powder
1/4 tsp. poultry seasoning
1/4 tsp. pepper
Dumplings:
3 egg whites
1/2 cup 1% cottage cheese
2 tbsp. water
1/4 tsp. salt
1 cup all-purpose flour
1. In a large nonstick skillet coated with nonstick cooking spray, brown chicken.
2. Add the broth, water, vegetables, and seasonings.
3. Bring to a boil.
4. Reduce heat; simmer uncovered for 30 minutes.

While that's going on...
1. Beat the egg whites and cottage cheese in a mixing bowl
2. Add water and salt.
3. Stir in flour.
4. Mix well.

After simmering for 30 min.
1. Bring soup to a boil.
2. Drop dumplings by tablespoonfuls onto the boiling soup.
3. Reduce heat.
4. Cover and simmer for 15 min. or until a toothpick inserted into the dumplings comes out clean. (Do not lift cover while simmering)

Yields 4 servings. One serving = 1.5 cups Calories 363 Fat 4g Sat. Fat 2g Cholesterol 73mg Sodium 900mg Carbohydrate 39g Fiber 4g Protein 42g

Menu
Southwestern Wraps - Melissa Benson
20 flour tortillas
15 oz can Mexican corn
1 can black beans
10-oz package frozen spinach
40 oz prepared cooked and packaged chicken strips (boneless skinless)
fajita seasoning
salsa (for garnish)
1. Drain vegetables, mix black beans, corn , seasoning and spinach in sauteing pan on stove, no need to heat long.
2. Heat chicken in separate sauteing pan on stove top.
3. Take off of heat and wrap the mixture and two chicken strips in each tortilla.
4. Serve with salsa

Serving size: one wrap.
335 calories fat 4.5 g saturated fat 1 g cholesterol 26 mg sodium 2079 mg carbohydrates 54g dietary fiber 5g protein 23 g

Menu
Southern Fruit Salad - Catherine Rankin
(Fresh fruit picked by Tiffany Little and Leslie Miller)
In large punch bowl :
1/2 small water melon scooped with melon scooper
1/2 honeydew melon scooped with melon scooper
32 oz. bag frozen plain peaches (no syrup)
16 oz. fresh blackberries
16 oz fresh blueberries
2 cups fresh sliced strawberries
3 or 4 bananas
honey add as desired

Scoop melons, arrange fruit in layers adding honey to every other layer or so to taste.

Serving size 237 grams - calories 131 fat 1 g sat fat 0 g cholesterol 0 mg sodium 7 mg carbohydrate 33g dietary fiber 4 g protein 2 g.

Menu
Homemade Rolls - Catherine Rankin
1. Scald 1 cup milk and 1/2 cup butter in large sauce pan on stove eye.
2. Take off heat and add: 2 tsp. salt 1/2 cup sugar, Let cool to lukewarm.
3. While doing this stir two packages of yeast into 1/2 cup luke warm water and a dash of sugar (helps dissolve the yeast).
4. stir with fork until the yeast is completely dissolved in the water
5. Add the yeast to mixture in Large sauce pan and stir well/
6. Add 3 cups of high protein bread flour and stir with a heavy spoon to create a kneading process.
7. Stir in the flour well and Add 2 eggs (one will do). Stir well for at least five minutes, adding more flour to get a shiny dough that is not too sticky.
8. Let rise until dough is at least two times its original size - or about 2 1/2 hours at room temperature.
9. Set aside extra virgin or light tasting olive oil in shallow bowl.
10. Take out dough and place on flour counter top or bread cloth. Roll out with a rolling pin and cut with a small round biscuit cutter. Place some olive oil on each piece of dough and cover it.
11. Stretch dough and fold it over into a semi circle sandwich shape. place in shallow aluminum pan and set in oven at 350 F or freeze for later use. (If frozen allow the dough to completely thaw out before placing in hot oven.)
12. Bake for about 10 min until golden brown on top

Serving size one roll - calories 47 fat 2 g sat fat 1 g cholesterol 7mg sodium 24 mg carbohydrates 7g

Menu
Cheese Plate - Catherine Rankin
Set cheese out at room temperature for 2 hours before slicing. Slice with sharp knife into serving size.

Tillamook White Cheddar Cheese
Serving size 1 g - calories 135 fat 11 g sat fat 7 g cholesterol 35 mg sodium 205mg carbohydrates 0 g dietary fiber 0 g protein 8 g

Menu
Iced Tea - Catherine Rankin
Per gallon:
3 or 4 quart sized bags of Red Diamond Orange Pekoe tea
2 large lemons
1 c honey

Boil about 2 quarts water on stove then add tea bags, slice 1 lemon in, and let cool. In gallon pitcher add this mixture, slice other lemon, seed it and add it to pitcher, and add about 2 more quarts water to make a full gallon. Chill.

Serving size 1.5 c - calories 104 fat 0 sat fat 0 cholesterol 0mg sodium 14 mg carbohydrates 33g dietary fiber 1g protein 1g.

Menu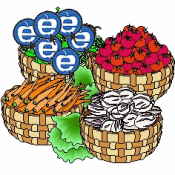 Thank you to our visionary Judson Administration and my cooperative and enthusiastic students, Melissa Benson, Brandi Butler, Dani Cooper, Jessica East, Rebecca Gray, Katie Hoggle,Tiffany Jernigan, Tiffany Little, Leslie Miller, Ashley Parsons, Catherine Rankin , and Angela Wilson! I appreciate the oversight and advice from faculty in both the Science Division and Social Sciences Division. Support from my colleagues on the Judson IT Team was truly invaluable. Thanks also for the guidance and supporting materials from the TLT Group and Thomson/Wadsworth, a division of Thomson Learning.

Finally, thanks to all my friends at Ucompass. Here's to the future!

Ruth Kastenmayer
June 2004