Cahaba River
Radford Ramp Project
(see link at bottom of page)
The Radford Bridge access project was made possible by a Community Development Grant Application to the State Association of RC & D Councils written by Dr. Thomas Wilson in conjunction with Tim Sanderson, Perry County Commissioner. The grant was awarded and the work was done by the Perry County Engineer's Department.

Work began on the Radford ramp in November, 2008, and the project is completed. The ramp is presently open to the public and all work was finished in mid-December, 2008.
Directions to the Radford Ramp in Perry County: At the junction of State Hwy 14 and Perry County Hwy 30 (the Perryville Volunteer Fire Department building is on the corner); go West on the old gravel County Road 30 road for one mile. The road terminated at the ramp.
[I have left the story of the struggle for the Radford Ramp as it unfolded to honor the hard work and dedication of Judson College and the Perry County Commission toward providing access to the Cahaba River for Perry County and others who love this river.]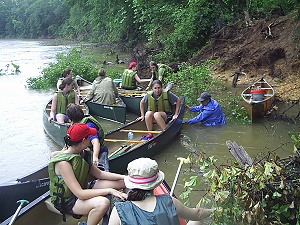 The take-out at the old Radford Bridge is an eroded, steep, muddy ditch with the banks covered with poison ivy. Judson College students make this trip several times a year. Randy Haddock. Field Director of the Cahaba River Soceity, has gone with our group for almost 20 straight years. Here is Randy working to get the girls safely to the bank and the canoes and gear up that dang ditch. Guess what fun it is when it is raining cats and frogs!
The water is deep against the take-out bank. Trees have washed into the ditch area. This important "take-out" is a nightmare...we need help!

We put our canoe into the Cahaba River at the Radford "ditch" on June 23, 2005, and took the following photos of conditions on the road and at the take-out.

We will miss the fun of pulling and pushing our canoes up the deep ditch at the Radford bank. It was especially intertaining during a hard rain!
The Radford parking area is full of weeds, mudholes, and ruts. It could be a very nice place.
A group of people with a long history of "helping" the river is working hard through political channels and paths to get an official County Park constructed at the Radford take-out. If you want to help with this project, contact me, Thomas Wilson, 334-683-6389.
The Radford Bridge Canoe Access The project is done! Look at the images (Dec. 2008).