As we approach the Judson College Terquasquicentennial (175th Anniversay) Celebration in 2013, we are conscious of our Vision and focusing on our endeavor to become the finest Christian liberal arts college for women in America.
At Judson, student learning is at the heart of our Mission. We are committed to a continual process of planning, assessment, and improvement in order to ensure ongoing enhancement of our institutional quality and effectiveness. We intend for all of our students to have the opportunity for creative, engaging, and meaningful learning experiences.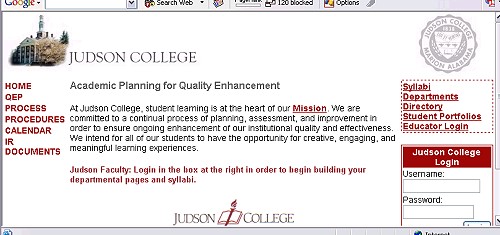 We have taken the initiative to begin building an academic planning site that will establish a clear pattern in order to ensure that the learning outcomes in all courses relate to departmental objectives which flow from the eight directives (goals) in our College Strategic Plan.
As part of our strategy for continuing improvement, we have recently developed a Quality Enhancement Plan which will improve the quality of college-level writing across the campus. We are very pleased that we will be able to collect and grade writing samples in our CMS, Educator, and keep a portfolio for each student that covers her years at Judson and tracks improvements in her writing abilities over time.

Top of Page
---